Introduction
In a baffling turn of events, the city of Indianapolis found itself embroiled in a nearly 24-hour search for a runaway pet monkey named Momo. This nimble primate managed to outmaneuver local law enforcement, leaving a trail of chaos and injuries in its wake. However, Momo's adventures were abruptly halted when it sought refuge in an unexpected hiding spot within a vacant house still under construction. The monkey's capture by its owner's brother brought an end to its mischievous expedition.
Local Law Enforcement's Pursuit
The Indianapolis Metropolitan Police Department (IMPD) tirelessly chased after Momo throughout the entire ordeal. With relentless efforts, they finally cornered the agile monkey within the confines of a bathroom in the aforementioned residence. "That was more than enough monkey business for us," expressed the IMPD on their official X (formerly known as Twitter) account when announcing Momo's capture.
CAPTURED 🐒

Momo the monkey has been captured safely.

That was more than enough monkey business for us.

Thank you all for your assistance. pic.twitter.com/CqVHoLcRGJ

— IMPD (@IMPDnews) October 5, 2023
The Elusive Quarry: Momo the Patas Monkey
Momo, a patas monkey known for its remarkable speed, proved to be an elusive quarry for the IMPD. According to Southwick's Zoo, these primates can reach an astonishing speed of up to 34 mph, making it a difficult task to apprehend them.
Chaos and Injuries Trigger Authorities' Intervention
Local authorities were alerted to the situation when reports of minor injuries caused by an "aggressive animal" flooded in. It remains unclear whether Momo bit anyone during the commotion. A startled neighbor, Karri Harbert, recounted her bewildering encounter on Facebook. She described how she returned home from work only to find herself face to face with the mischievous primate, WISH TV reported. "I get home and start to get out of my car, and a monkey walks up to my open car door," Harbert explained. "It took me a few seconds to figure out what it was, so I closed the door, and he jumped onto the hood of my car! I was about to get out of my car again when the police (several of them) pulled up and told me to stay in the car, that there was a very aggressive monkey on the loose!"
Momo's Previous Escape Raises Concerns
Interestingly, this was not the first time Momo had succeeded in outsmarting its captors. In a similar incident back in July, this daring primate had managed to escape from its owner's home, prompting the intervention of animal services.
The Future of Momo in Indianapolis Animal Care Services' Hands
Following Momo's capture, the monkey was entrusted to the care of Indianapolis Animal Care Services before being transferred to the knowledgeable staff at the Indianapolis Zoo. Katie Trennepohl, deputy director of Indianapolis Animal Care Services, confirmed this arrangement. However, the fate of this mischievous primate hangs in the balance as the Marion County prosecutor's office deliberates whether Momo will be returned to its owner.
The Pitfalls of Owning Exotic Pets
While owning such an animal does not require a permit in Marion County, Momo's owner received a citation due to the monkey's unsafe behavior in a residential area. This incident serves as a stark reminder of the potential risks involved in owning exotic pets.
Health Concerns Arise
As the dust settles on this peculiar saga, residents who had direct contact with Momo during its escapade are urged to contact the local health department. Concerns have been raised regarding the transmission of diseases from the primate to humans.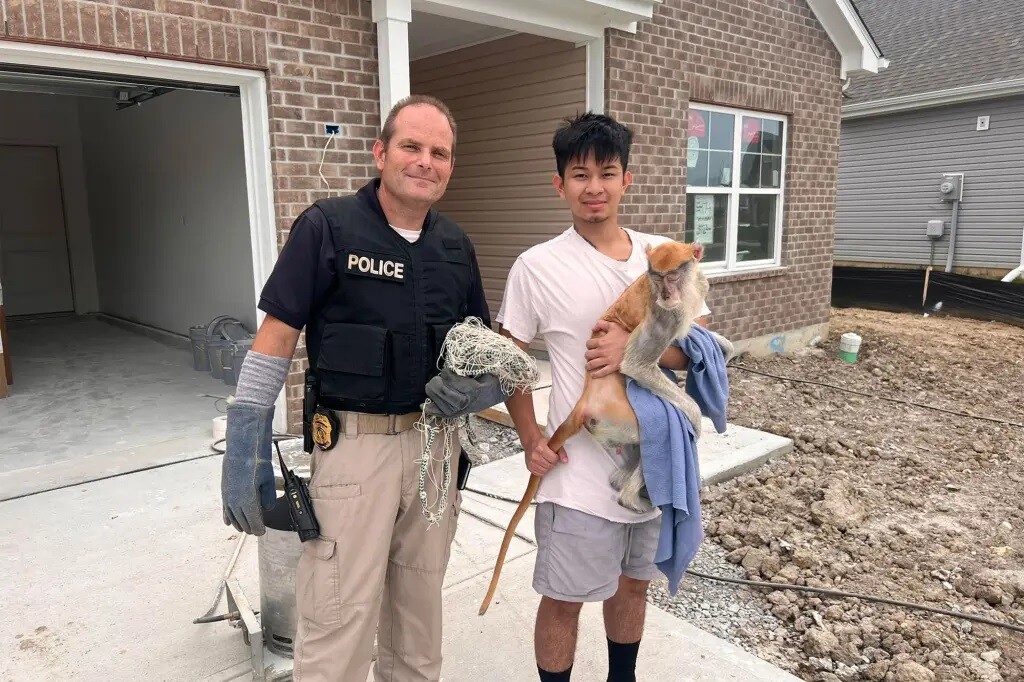 Conclusion: An Unforgettable Episode
In conclusion, this unforgettable episode serves as a vivid reminder of the unpredictability of life and the lengths authorities will go to ensure public safety. The tale of Momo's escapade will undoubtedly linger in the hearts and minds of Indianapolis residents for years to come, a testament to both the resilience of this mischievous monkey and the unwavering dedication of those who pursued it.
Follow Us