In a world where extraordinary talents and unique abilities often capture our attention, Bella, a 14-year-old mixed-breed cat, has made quite a purr-fect impression by setting a new Guinness World Record. Bella's vocal prowess has earned her the prestigious title of "world's loudest purr by a domestic cat (living)." This remarkable feat, as confirmed by Guinness World Records (GWR), has left the world astounded and in awe of this feline's vocal abilities.
The Decibel Dynamo
Bella's purr, described as a symphony of sound, registered at an impressive 54.49 decibels during the official record attempt. To put this in perspective, it's equivalent to the harmonious melody of a tea kettle reaching its boiling point, and it's just a whisper away from the soothing hum of a standard washing machine. Bella's purr isn't just a sound; it's a sensation that resonates with everyone fortunate enough to hear it.
Bella's Proud Owner
Nicole Spink, Bella's owner, resides in Huntingdon, Cambridgeshire, U.K., and is no stranger to Bella's extraordinary vocal talents. She shared that Bella's purr often graced their home throughout the day, and even during family television time, she liked to make her presence known. Nicole's late husband used to jest about Bella's purr overpowering the TV's audio in the evenings, a testament to the remarkable volume and resonance of Bella's purring.
A Well-Deserved Record
While the world may be discovering Bella's extraordinary gift now, it's no surprise to those who know her well. Friends and family have always been amazed by Bella's purring symphony. Whenever someone in the house hears an unusual, loud noise, they already know it's Bella expressing her happiness.
The Quest for Records
Bella's journey to breaking records began when Nicole and her daughter decided to explore Bella's purring potential. Initially, they used a mobile app to gauge Bella's pitch, but they soon realized that an official record required a more precise measurement.
A Purr-sistent Old Lady
Nicole Spink, Bella's owner, candidly shared her concerns about Bella's temperament. Bella, described as "a stubborn old lady who does as she pleases," posed a unique challenge. Would she perform her best when the time came for the official record attempt? The world eagerly awaited the answer.
The Record-Breaking Moment
When the moment arrived for Bella to demonstrate her vocal talents, there was no room for doubt. She immediately embarked on a purring journey that would etch her name in the annals of history. The record-breaking purr was meticulously captured by a sound engineer and officially endorsed by GWR's official adjudicator, Dave Wilson.
A Measured Distance
The purr that clinched the record was recorded from a distance of precisely one meter (a little over a yard) from Bella to the microphone. This meticulous approach ensured that there was no room for error in documenting Bella's incredible vocal abilities.
A Proud Moment for the Family
Nicole Spink, thrilled by Bella's achievement, expressed her eagerness to share the news with her children. She noted that her kids had been bragging to everyone about their remarkably loud cat. This achievement would undoubtedly become a cherished memory in the Spink household, though the exact location for displaying the record had yet to be decided.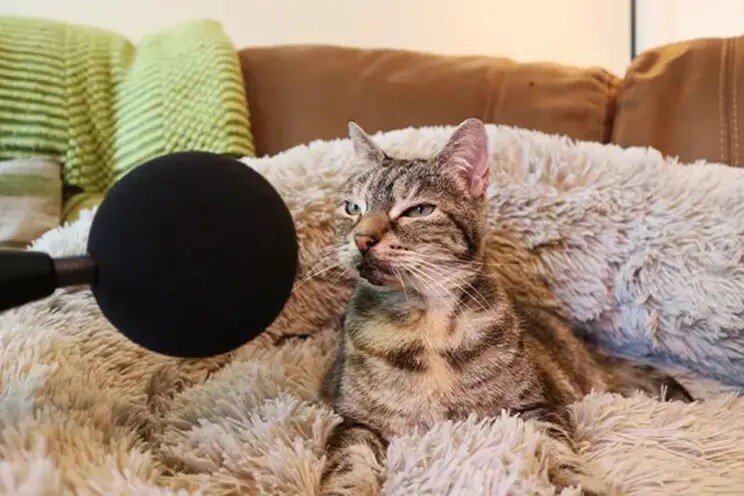 Bella's Unique Record
While Bella's title as the "world's loudest purr by a domestic cat (living)" is undeniably impressive, it's important to note that the record for the loudest purr by any domestic cat ever recorded is held by two cats named Merlin and Smokey.
In 2011, Smokey set the astonishing record of purring at a thunderous 67.8 decibels, a remarkable 13.21 decibels louder than Bella's impressive feat. Four years later, Merlin, owned by Tracy Westwood in Devon, U.K., equaled this record, and they continue to hold the title of record co-holders to this day.
In conclusion, Bella's journey to become the world's loudest purring cat is a testament to the extraordinary and sometimes unexpected talents our feline companions possess. Her record-breaking purr, measured and documented with precision, is a source of pride not only for her owner but for all cat lovers around the world. Bella's purr is a symphony of sound, a remarkable achievement, and a reminder of the unique and remarkable abilities of our beloved pets.
Follow Us