Being the target of mockery is never a pleasant experience. And that's exactly what happened to a Florida sheriff's office when one of their deputies issued a citation to a driver for "impersonating law enforcement" with his humorously named "Booty Patrol" truck. This incident quickly went viral, bringing a wave of online ridicule directed at the sheriff's office.
The driver, Gabriel Luviano, had modified his white Chevy Silverado pickup to resemble a US Border Patrol vehicle. With a green diagonal stripe, an official-looking federal emblem, and red and blue flashing lights on the dashboard, it would be easy to mistake his truck for the real deal. However, the large capital letters spelling out "BOOTY PATROL" and "National Booty Behavior Protection" on the side should have made it clear that this was all in good fun, NBC News reported.
Unfortunately for Luviano, the sheriff's office saw it differently. They accused him of impersonating law enforcement and posted several images of the vehicle on Facebook to raise awareness among the community. They even urged anyone who had been pulled over by the "suspicious vehicle" to come forward. The sheriff's office emphasized the importance of cooperation from residents for the safety of the community.
But Luviano insists that his intention was never to impersonate federal agents. He explained that he added "Booty Patrol" to his truck simply because it was the closest he could get to "Border Patrol" while still including the letter "B." It was all meant to be lighthearted and amusing, not a serious attempt to deceive or pull people over.
Despite Luviano's explanation, the deputy who pulled him over didn't see the humor in it. Instead of joining in the laughter, the deputy issued Luviano a fine of $113 for displaying red and blue lights on his vehicle, a violation of Florida law. Luviano claims that he only turns these lights on while parked and on private property, never while driving.
The online response to this incident has been overwhelmingly supportive of Luviano. Many people on social media have sided with him, believing that the sheriff's office overreacted. They argue that anyone seeing the "Booty Patrol" truck would immediately recognize it as a joke, not a real officer on duty. Some even express sadness at how the sheriff's crackdown has affected the car community, as Luviano's truck is a show car that brings joy to many.
Luviano's case is not unique. Similar instances have occurred before, where individuals take inspiration from law enforcement vehicles to create humor. For example, Californian Jacob McGennis transformed his Ford F-150 Raptor to resemble a Border Patrol vehicle but chose the playful name "THOT PATROL" for his fictional agency. McGennis has gained a dedicated following on Instagram, with photos and videos of his truck, often featuring real officers who can't help but laugh at the clever wordplay.
In the end, it seems that the "Booty Patrol" debacle serves as a reminder that humor is subjective, and what one person finds amusing, another might see as a violation. While Luviano insists that his intentions were harmless, the sheriff's office took a different view. In light of the online backlash, it remains to be seen whether they will reconsider their stance and maybe even join in on the laughs.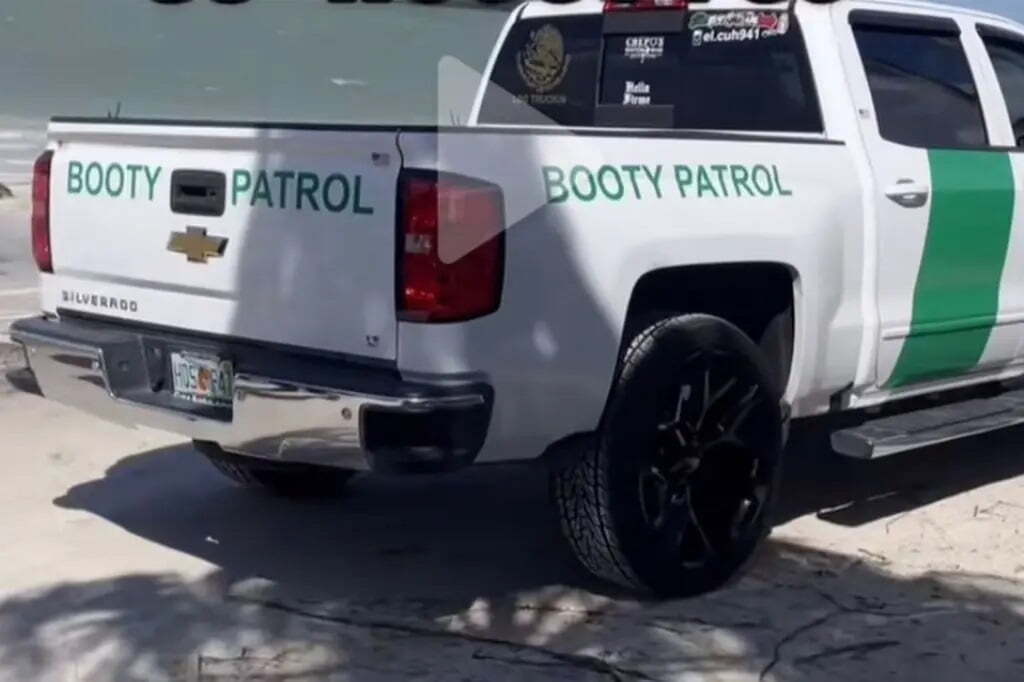 So, next time you spot an unconventional vehicle on the road, don't be too quick to judge. It might just be someone trying to bring a smile to people's faces. After all, laughter is the best medicine, even if it comes in the form of a truck that reads "Booty Patrol." Let's not lose sight of the lighter side of life and enjoy the harmless jokes and playful antics that make our days a little brighter.
Follow Us