Full police chase video:
In a bizarre turn of events in the heart of Florida, Tyler Fayconsolo, a 24-year-old man, led authorities on a wild and perilous police chase, culminating in a surreal escape that left onlookers and officers astounded. This head-spinning incident unfolded in Marion County, Florida, where Fayconsolo's desperate bid to evade the police took a strange and dangerous twist.
A Wild Chase Unfolds
The peculiar saga began when police officers caught Fayconsolo driving erratically shortly after he left a gas station in Ocala, a city approximately 80 miles northwest of Orlando. The intoxicated driver exhibited a blatant disregard for road safety, swerving in and out of lanes, and even venturing onto the opposite side of the road and through large patches of greenery.
With speeds topping 100 miles per hour at times, Fayconsolo put the lives of innocent bystanders at risk. At one point, he narrowly avoided a collision with two individuals who were parked at a trailhead he recklessly plowed through. Despite law enforcement's persistent efforts to stop him, including a pit maneuver and the deployment of stop sticks, Fayconsolo continued to flee with four flat tires and a damaged rear bumper.
The Astonishing Escape
Fayconsolo's vehicle's ultimate demise came when he forcefully crashed through a concrete-laid residential fence, bringing his car chase to a grinding halt. However, it was what happened next that truly defied belief. Seemingly unfazed by the wreckage, Tyler Fayconsolo executed a maneuver that left everyone astonished – he head-butted the passenger side window of his car, breaking through the glass with nothing but his skull.
As the window shattered, he catapulted himself through the opening, resembling a dolphin leaping out of the water. The Marion County Sheriff's Office commented, "This is where Tyler used his head, but not how you should … he head-butted the passenger side window and came flying out like a dolphin."
With his unorthodox escape, Fayconsolo continued his flight on foot, attempting to distance himself from the pursuing officers. However, his efforts were short-lived, as a K9 unit was promptly deployed and forced him to submit.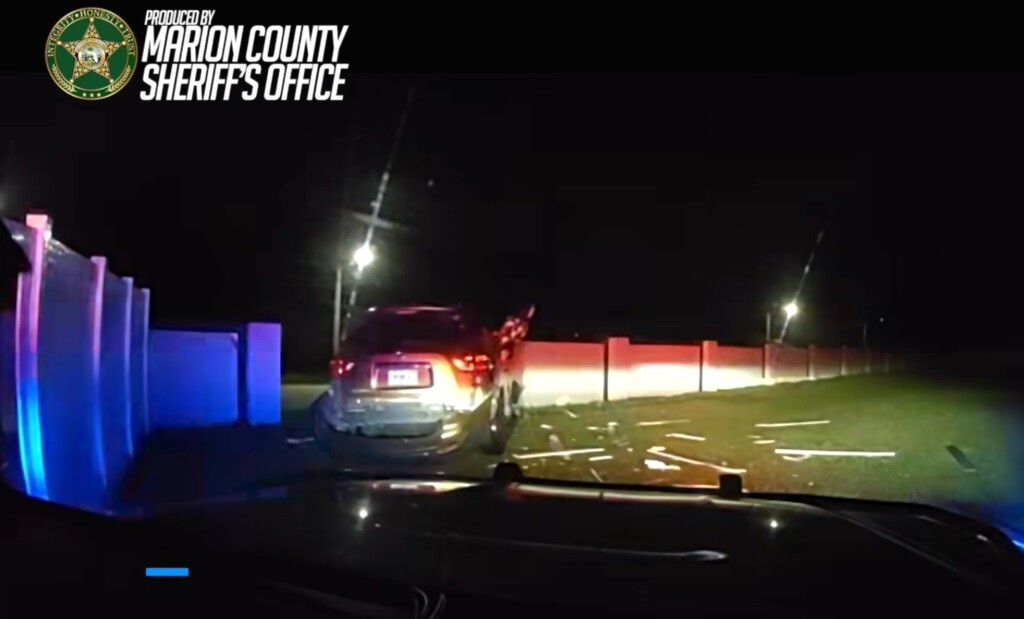 The Surrender and Charges
Following his apprehension, Tyler Fayconsolo was transported to a hospital, where he allegedly admitted to being "high as f–k." He was subsequently charged with several offenses, including driving under the influence of alcohol or drugs, aggravated fleeing with injury or damage, and resisting without violence.
His bond was set at $53,000, and his next court appearance was scheduled for November 14, as per online jail records.
A Spectacle Beyond Imagination
Tyler Fayconsolo's escapade through Marion County will undoubtedly be remembered as a peculiar and jaw-dropping event. The audacious head-butt escape, caught on bodycam footage, has left both law enforcement and the public astonished. It's a story that showcases the unpredictable and sometimes baffling nature of real-life events, leaving us all to wonder what motivated such a dramatic escape.
Follow Us