(The AEGIS Alliance) – Many of us remember Corey Feldman for his roles in hit movies of the 80s and 90s, such as Friday the 13th: The Final Chapter, The Gremlins, Stand by Me, The Lost Boys, and The 'Burbs.
However, childhood fame came at a price, it has been revealed. The actor, who for years tried to blow the whistle child abuse in Hollywood and exposed the elites, says the pedophiles in Hollywood took away his childhood innocence.
@Corey_Feldman at an interview with @TheView where Feldman exposes #Hollywood & its #paedophiles
In the video above, The View host Barbara Walters scolds Feldman for attempting to call out Hollywood's pedophilia problem. On the American talk show, Feldman tried to reveal that he and Corey Haim, his friend, were both sexually abused during their early years in the industry by very powerful and prominent players in the industry and that they are still in the business.
In a series of Tweets, Feldman noted how Weinstein's sexual harassment and abuse of adult women did not equate to nor was the source for the horrific pedophilia he and his fellow child actors endured.
HOWEVER 4 THE RECORD I WOULD LIKE 2 SAY NO HARVEY WEINSTEIN WAS NOT THE MAN WHO MOLESTED ME OR MY FORMER ACTING PARTNER. OBVIOUSLY PEDOS

— Corey Feldman (@Corey_Feldman) October 13, 2017
HAVING SEX WITH CHILDREN! THAT SAID, I HAVE NEVER MET HARVEY IN MY LIFE, BECAUSE MY CAREER WAS ALREADY BEING SHUT DOWN BY POWERS THAT BE B4

— Corey Feldman (@Corey_Feldman) October 13, 2017
Corey Feldman told the PEOPLE magazine how he and Haim suffered child sex abuse, how they were invited to parties where adult men attempted to befriend them, and how they were passing the duo back and forth to each other:
"Yes. I believe that Haim's rapist was probably connected to something bigger and that is probably how he has remained protected for all these years. This person uses intimidation and threats as a way to keep people quiet. And all these men were all friends.

"Ask anybody in our group of kids at that time: They were passing us back and forth to each other. [Alison Arngrim] from Little House on the Prairie said [in an interview], "Everybody knew that the two Coreys were just being passed around. Like it was something people joked about on studio lots."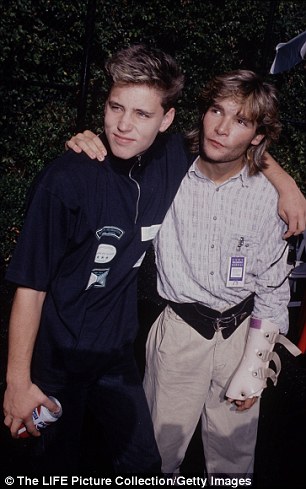 It's not just Corey Feldman who has been abused, other Hollywood stars are sharing their own experiences:
https://twitter.com/rosemcgowan/status/918567880865628161
https://twitter.com/rosemcgowan/status/918571692598767616
Hollywood is not the only business we're this happens, and to the casualties of this behavior— you are not alone. (15/cont.)

— Terry Crews (@terrycrews) October 10, 2017
Please share this article with your friends and family so that they may see the dark nature of Hollywood's elite.
Kyle James Lee – The AEGIS Alliance – This work is licensed under a Creative Commons Attribution-ShareAlike 4.0 International License.
Follow Us