(The AEGIS Alliance) – Lee County Florida Sheriff Mike Scott's twelve-year position as the head of this agency has been one of turmoil with many scandals brushed under the rug. He did the traffic reports on the news prior to being the Sheriff, he was a Probation Officer and his cousin was the Former First State Attorney Joseph P D'Allesandro. He is connected! This time, the evidence and factual allegations are not going to pass jail for him. A minimum of three outside of the area Federal agencies are involved in Investigating Mike Scott and the 20th Circuit Courts.
President-Elect of The United States Donald Trump's allegations of "FAKE NEWS" should be directed straight to Lee County Florida. The reporters are not allowed to report the truth; the Kangaroo Court System is run by criminals for Capital Gain. Let's face it, the Governor is a DRUG DEALER. The Pharmaceutical Industry is controlled by people with money. They created the "pill mills" for the enterprise. Go to the Doctor he/she prescribes some pain killers, they get hooked and need more, then become addicts. Some doctors get strung out on them, their friends are Judges and Lawyers. Florida has done everything in its power to abolish getting Medical Marijuana up and going.
Rather than solve the problems with the legalization of marijuana, they need to keep it a criminal matter because of their wallets getting thin. Someone gets busted for a little weed, they go to jail, bond out, higher an attorney to make a deal with the State to keep you in the system. Lee County's famous saying is "come on vacation, leave on Probation and come back on violation" you cannot get closer to the truth. Old money and old power still exist here due to "connections".
Anonymous and The AEGIS Alliance entities have recently discovered one of many ongoing Conspiracies by Lee County Sheriff Mike Scott who has been dubbed by FBI sources as the "King Pin". November 10th, 2016 Bryan Rivera's family put out a Missing Person's Report on him with local News…
https://www.winknews.com/2016/11/10/authorities-issued-advisory-for-missing-cape-coral-man/#.WCZTbST731I.facebook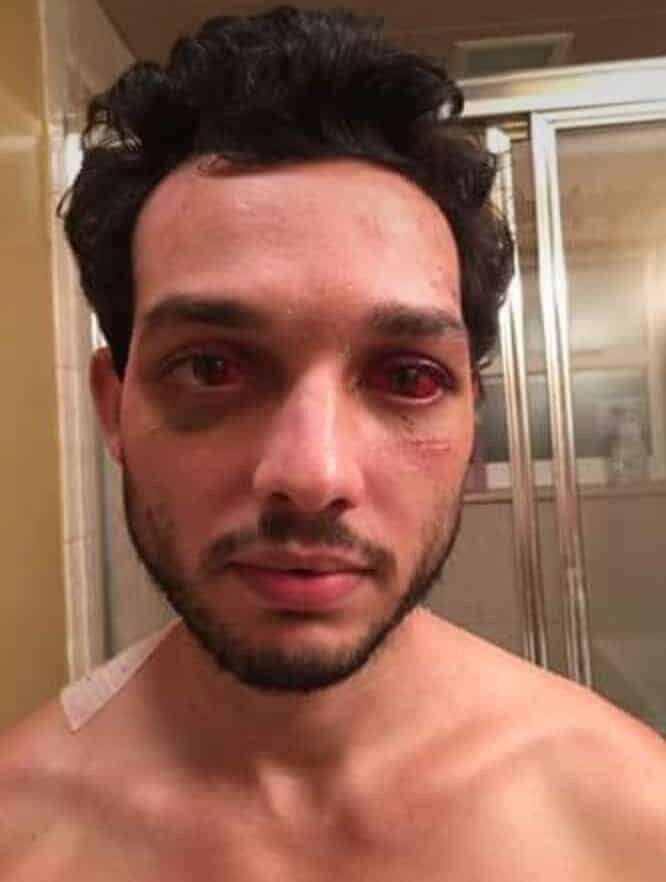 His mother contacted Law Enforcement in Lee County repeatedly prior to this being put out. Yet little did they know that Lee County Sheriff Mike Scott had him under arrest and hidden in the Hospital since November 8th. This all took place while his family was searching for a loved one in deep concern and he was beaten brutally by Lee County Sheriff Deputies. The hospital was even lying to his family he was in Intensive Care until his mother demanded to see him. Wink Tv clearly was also deceived by Sheriff Mike Scott's Office, but no reports about this activity have been exposed.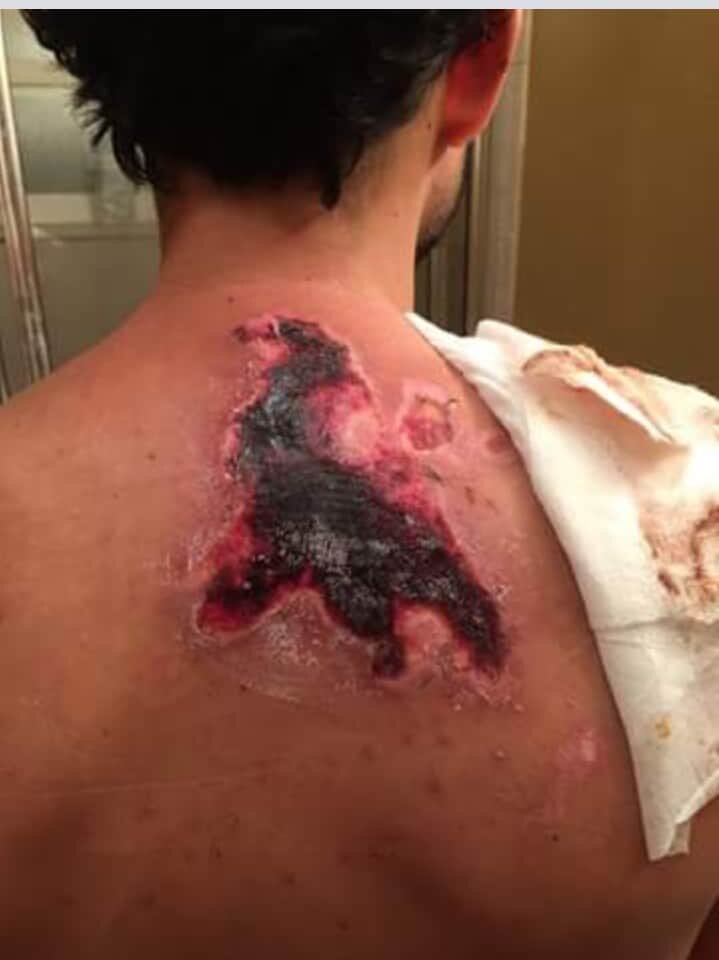 Sheriff Mike Scott and the Judiciary were involved in Conspiring against Enzo Vincenzi who was conned out of his Hotel. The Naples Daily News did an article on this in 2010…
http://archive.naplesnews.com/news/crime/whatever-happened-to-man-who-lost-fort-myers-motel-won-lawsuit-over-voodoo-ritual-ep-392945344-343091802.html
After going through 6 Attorneys and 3 Judges, Enzo received his hotel back in September of 2013. Judge Sherra Winesett's husband's Attorney Firm in Ft Myers presides next door to the Title Company involved in this scam. Enzo has full reports from Private Investigators that have filed formal complaints to numerous entities. The month prior to receiving his Hotel back after a five-year fight Judge Sherra Winesett submitted her "Retirement/Resignation" letter to Governor Rick Scott. There was an illegal Mortgage of $250,000 dollars given to the perpetrator Miriam Pacheco. Pacheco was running a scam out of this Hotel while in her possession. Enzo has been harassed, threatened to be killed and thrown in jail illegally by the "Kingpin" Lee County Sheriff Mike Scott. Anonymous exposed this matter in May of 2016 as yet local media never touched this situation after guilt was admitted by returning his Hotel to him after 5 years.
Real Estate is big money in South Florida as well as the pharmaceutical industry all of which Governor Rick Scott has his hands involved in. This could be why the "Kingpin" of Lee County Florida is still the Sheriff. Police and Prosecutorial Misconduct is protected by Attorney General Pam Bondi and Governor Rick Scott who lives in Naples Florida part of the 20th Judicial Circuit.
Bryan Rivera has been charged by the State Attorneys Office. He had no weapons or drugs on him. A beating for alleged Fleeing and alluding he took. This story will be updated and we will be keeping an eye on this case. One of many!
The false charges against Bryan Rivera were dropped in 2017 due to insufficient evidence: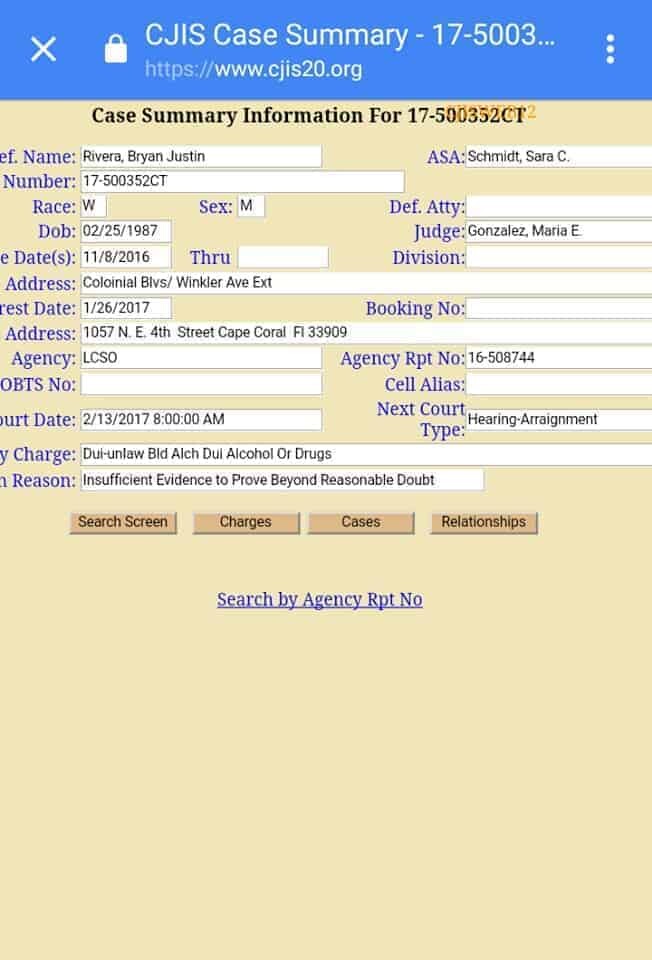 Bryan Rivera's original case summary before the false charges were dropped: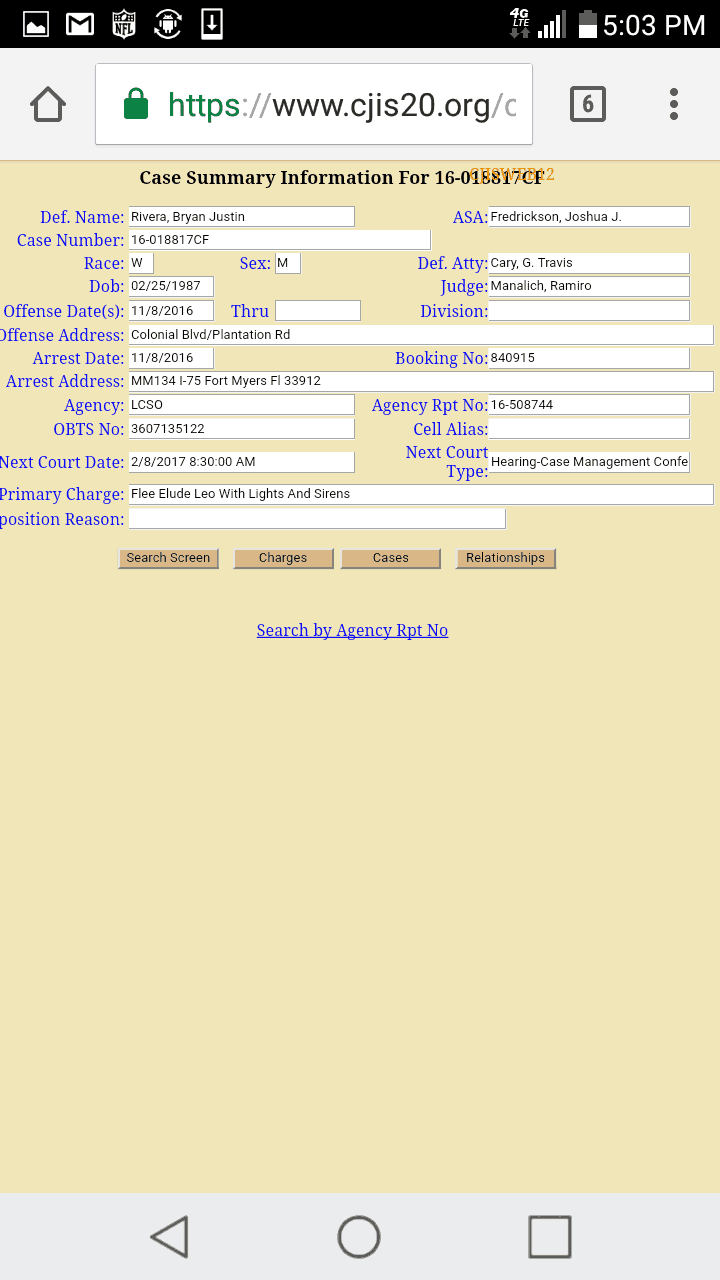 More images of Bryan Rivera following his arrest and hospital stay: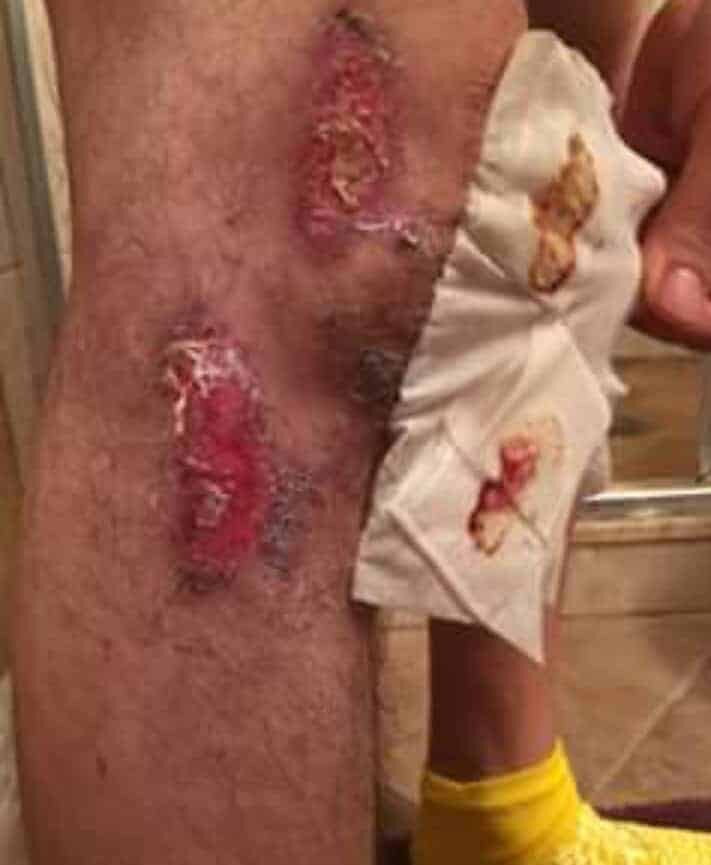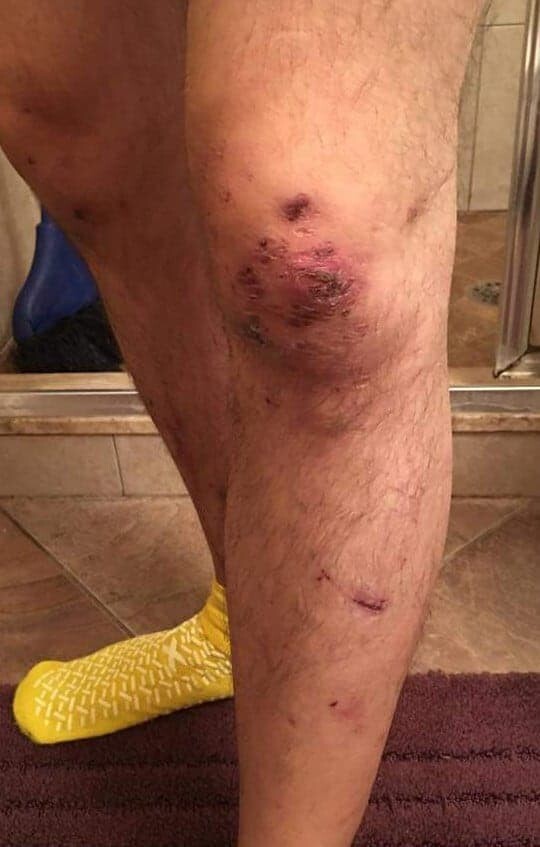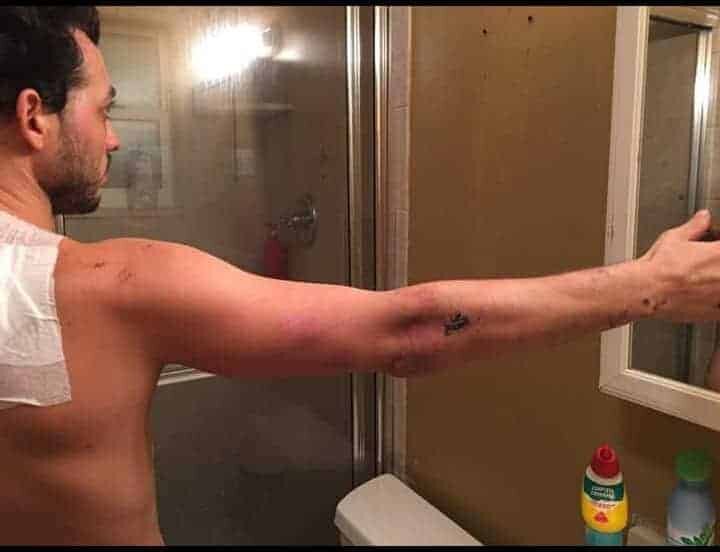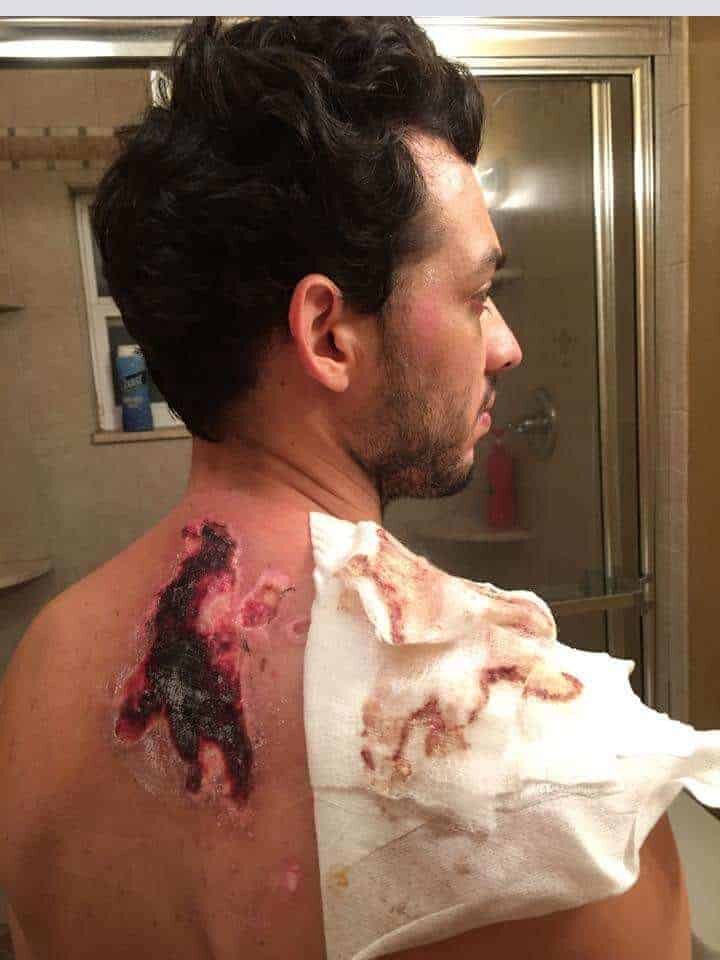 Kyle James Lee – The AEGIS Alliance – This work is licensed under a Creative Commons Attribution-ShareAlike 4.0 International License.