(The AEGIS Alliance) – Thanks to journalist Emma Best (@NatSecGeek), a new trove of FBI documents pertaining to the Church of Scientology's complaints about Anonymous' Project Chanology has been released to the public. Tony Ortega reports:
"We have two FBI files for you to pore by way of now, at 268 and 180 pages they're additional releases that we're acquiring thanks to journalist Emma Best, who is suing the FBI a lot more than a lot of document requests she has designed."
The Church of Scientology's troubles started in January of 2008 following a Los Angeles critic named Mark Bunker released a bizarre interview featuring Tom Cruise that promptly went viral. The Church of Scientology attempted in vain to have the video removed – a move that attracted Anonymous' consideration, very best to Project Chanology. Ortega has supplied a history of the incident appropriate right here.
Even though the church initially dismissed Anonymous as a "pathetic" collection of "computer geeks," they complained to the FBI that they had been under attack by a "terrorist" organization. This was apparently in connection to a series of letters, which contained a mysterious white powder, which was sent to the church. The powder ended up being a starch, and Anonymous denied sending the letters.
The newly released documents show that the FBI took the church's complaints seriously.  The bureau started its investigation in San Diego precisely where the church has been acquiring harassing emails, telephone calls, and faxes.
"The San Diego church offices have also received black facsimiles. The church has received 20 to 30 of these facsimiles. They incorporated photos of Guy Fawkes (17th century Englishman notorious for plotting to blow up parliament as a portion of an extremist Catholic campaign against Protestant rule), many cartoons, etc, all of which had the outcome of consuming a substantial listening quantity of ink."
What would America do with no FBI here to stage domestic terrorist attacks, and shield our ink supplies?
Ortega's report outlines added incidents that had been investigated by the bureau, all of which led to dead ends. The documents supply a fascinating – if not comical – glimpse into the tactic the FBI has taken with the Anonymous movement. Not to mention revealing the Church of Scientology's "inner snowflake."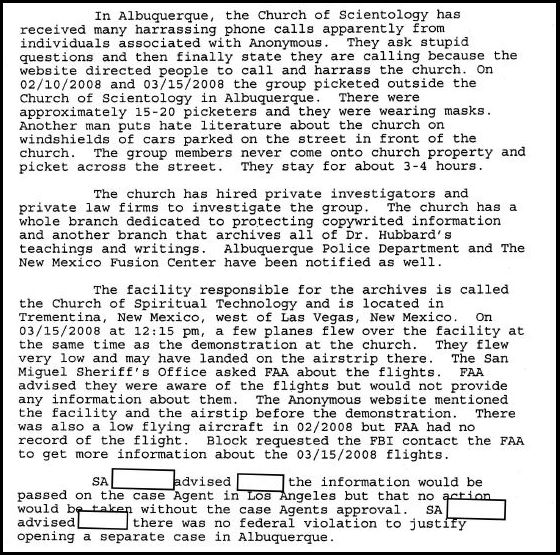 The FBI spent a lot of time, funding, and energy investigating the Anonymous movement at this time, even though they struggled to get the church to generate any witnesses to interview.
"After approximately two years, no investigative leads of worth have been designed. Based upon the age of the case, lack of an articulated threat, and the lack of any additional investigative leads writer requests that this matter be closed."
For more about the study, see Ortega's report, which outlines the FBI's investigation in total, and showcases the documents in an easy-to-study format, along with sources.
Kyle James Lee – The AEGIS Alliance – This work is licensed under a Creative Commons Attribution-ShareAlike 4.0 International License.