(The AEGIS Alliance) – Lee County Florida Ft. Myers Judicial Corruption has more overturned Death Penalty Cases than anywhere else in Florida. It is notorious for its well-known Corruption in which the Federal Government is across the street from the State Courts. The 20th Circuit Courts of Florida consist of 5 counties Lee, Charlotte, Glades, Hendry, and Collier. The fact there has only been two State Attorneys in the entire history of its formation spells one thing, Racketeering!
Numerous Federal Probes over the years have taken place with minimal results. Attorneys are unable to practice law and uphold the Constitution for their clients and they simply do whatever they want to do to people in the Criminal and Civil Court process. The media is controlled and will not expose this massive corruption that has been ongoing for many years.
It has been recently discovered that Former Judge Mark Steinbeck has been doing cases illegally on the bench. Steinbeck was a Federal Prosecutor in this area prior to being appointed to the bench by Governor Jeb Bush in 2006. Mark Steinbeck submitted his Resignation letter to Governor Rick Scott on April 16, 2014, to go in effect on December 31, 2014…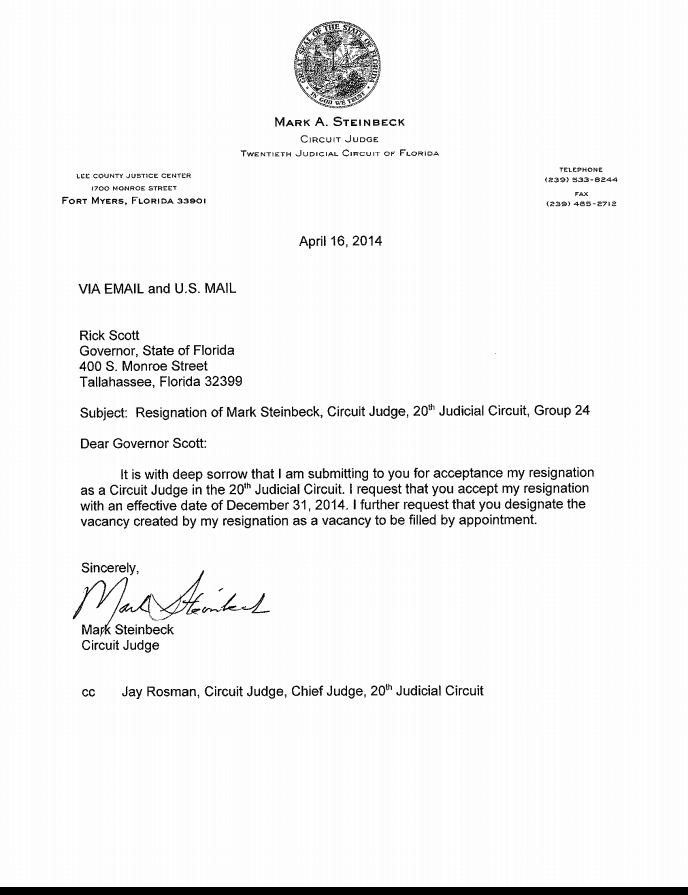 http://www.flgov.com/wp-content/uploads/pdfs/20th_circuit_steinbeck_gov_notified_of_vacancy.pdf
The Media in Southwest Florida is compromised and in fear of retaliation, and helps this area stay Corrupt. The Fort Myers News press put out an article alleging Mark Steinbeck retired rather than actually resigning his position…
http://www.news-press.com/story/news/local/fort-myers/2014/04/28/twentieth-circuit-judge-steinbeck-retire/8425285/
They show Mark Steinbeck as a Senior Judge in Lee County Florida.
http://www.ca.cjis20.org/home/main/courtpers.asp 
Steinbeck was only a sitting Judge for 8 years, therefore impossible to "RETIRE". A Judge needs to have 15 years sitting on the bench to Retire and become Senior Judge Status to oversee cases when needed. Several reporters and Investigators have looked into this severe situation, and the difference between Retiring and Resigning is very clear. If you resign your position in any company, you no longer hold that status any longer. Steinbeck was never sworn back into office by anyone and the deception is clearly seen. The fact is, they never thought they would get caught. His wife is a sitting Judge at this time in the 20th Circuit Courts and also a Former Federal Prosecutor.
We have found a few cases that Mark Steinbeck presided over since his resignation took effect on December 31st, 2014. With one we found as recent as September 2016 he presided over.
http://www.news-press.com/story/news/crime/2015/10/26/fort-myers-baby-killer-back-prison/74655902/
http://archive.naplesnews.com/news/crime/suppressed-evidence-in-dui-manslaughter-case-leaves-woman-with-no-jail-or-prison-time-ep-1080115029-338718311.html
http://www.naplesnews.com/story/news/crime/2016/09/27/life-sentence-cape-coral-man-convicted-2015-murder-outside-7-eleven/91173856/
We have information on Former Judge Mark Steinbeck's previous corruption while actually having an Oath of Office. Judicial Conspiracy in Southwest Florida is condoned due to fear of reprisal. Attorney General Pam Bondi nor Governor Rick Scott has taken no action on this matter, but then again Governor Rick Scott plead the 5th repeatedly for Medicaid Fraud prior to being the Governor of Florida. One criminal sure cannot judge another, but in the meantime, Lee County has one on the bench sending people to Prison or Jail with no power to do so.
Kyle James Lee – The AEGIS Alliance – This work is licensed under a Creative Commons Attribution-ShareAlike 4.0 International License.