A man from Idaho was taken into custody for reportedly killing the individual who was considered the prime suspect in his mother's murder. The incident resulted in his arrest.
According to a report by Law & Crime, Raul Alexander Cuevas, 31, was apprehended last Wednesday, just a day after his mother, Michelle E. Luna, 52, was discovered with multiple stab wounds and subsequently died in Nampa, which is located approximately 20 miles west of Boise.
After Luna's tragic death, investigators were able to link Jesus R. Urrutia, 39, to the crime due to his prior acquaintance with the victim. Urrutia was subsequently charged with first-degree murder.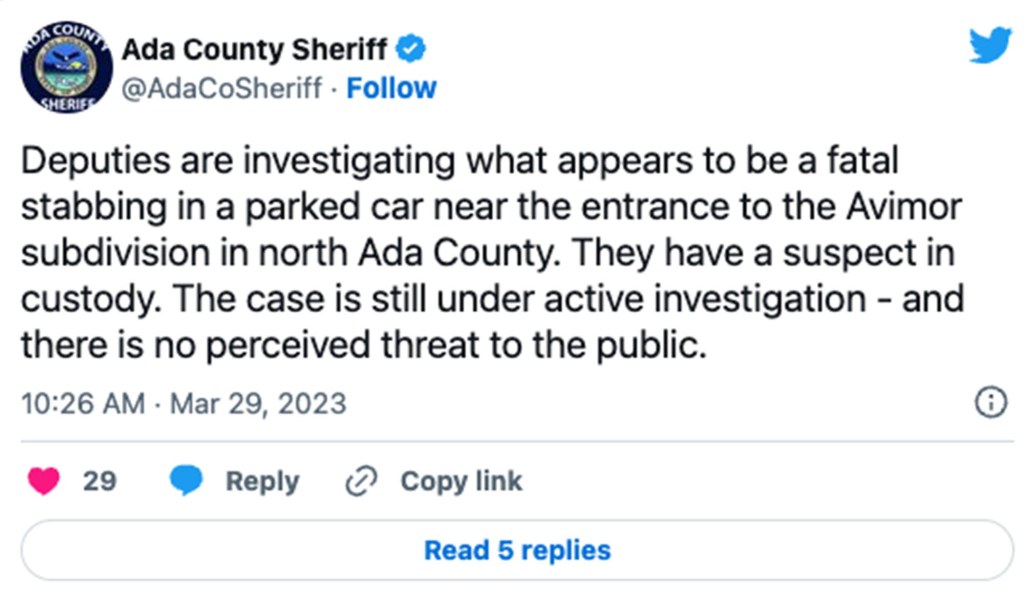 It was reported by the authorities that Luna had suffered from multiple stab wounds all over her body and unfortunately, she could not survive the injuries. (source)
Last week, the Nampa Police Department published a press release announcing that emergency services and officers responded to a 911 call reporting a stabbing at a residence on West Grouse Street. The incident occurred at approximately 8:45 p.m. on March 28th.
A gas station was the location where another stabbing victim, believed to be Urrutia, was found at around 7:03 a.m. the following day, as per the Ada County Sheriff's Office report.
Upon receiving the call, Nampa law enforcement officials arrived at the scene and discovered Urrutia "in a slouched position inside the vehicle, with the engine running but the car in park."
After Luna's killing, police discovered Cuevas approximately 20 miles away from the gas station. Consequently, he was taken into custody for purportedly committing Urrutia's murder, which law enforcement suspects was an act of retaliation.
According to authorities, the Ada County Coroner's Office has classified Urrutia's death as a homicide due to the presence of a "sharp force injury wound to the chest."
Although the motive behind Urrutia's death is still undetermined, Cuevas has been charged with first-degree murder. Authorities are actively investigating the case to determine why Cuevas fatally stabbed Urrutia.
Follow Us