(The AEGIS Alliance) – GREENSBORO, NORTH CAROLINA – Gilbarco Inc. is known as Gilbarco Veeder-Root which is a supplier of fuel dispensers, point of sale and payment systems, merchandising and support services. Gilbarco has come under fire by current employees who have reached out to us amid the coronavirus pandemic crisis. Gilbarco's headquarters are located in Greensboro, North Carolina.
Gilbarco released a letter to employees on Tuesday, March 31, 2020, and the employees had the letter by Wednesday, April 1. The letter describes that employees will be able to take time off if they don't feel safe at work due to the outbreak of COVID-19, also known as the novel coronavirus.
"We understand that each employee's situation is unique and not everyone is comfortable reporting to work during the COVID-19 pandemic. We will honor your request for an unpaid leave of absence if you are uncomfortable coming to work due to the pandemic. Management will not issue attendance points during your approved leave period," the letter reads.
The letter also describes that unemployment benefits are available if an employee is laid off for more than five days. If the layoff lasts longer than five days, the layoff will be permanent instead of temporary, the letter says. It also says Gilbarco may be able to assist in filing for unemployment benefits for former employees.
However, current employees have contacted us, and have told us that on Thursday, April 2, just one day after employees were given the letter, Gilbarco demanded that all employees are required to show up for work or risk being fired. Gilbarco effectively rescinded the letter they gave to employees just one day prior. The employees have asked not to be named in fear of retaliation from Gilbarco.
One of the current employees gave us this statement and said, "My employer Gilbarco Veeder-Root in Greensboro, North Carolina said on Wednesday and wrote us a letter saying we can be off work on Wednesday, and if we don't feel safe we can stay home. Then on Thursday they recalled this letter and said that everyone has to come to work, and we all don't feel safe."
In these times of the Coronavirus pandemic, it only makes sense that workers wouldn't feel safe in public places or being around a lot of other people. Gilbarco is not following current government guidelines used to combat the coronavirus and is putting profits over people and its own employees instead.
Here is the letter Gilbarco sent out to employees which were provided to us by a current employee: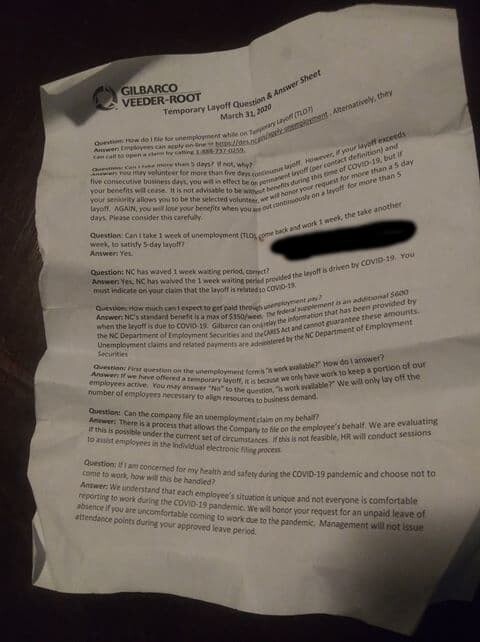 Kyle James Lee – The AEGIS Alliance – This work is licensed under a Creative Commons Attribution-ShareAlike 4.0 International License.
Follow Us