Contribute to Support Our Important Projects and to Continue Operating
Buy us a cup of coffee; or lunch, but the main purpose of the contributions received is used to keep the website operational, along with website improvements and upgrades. Contributions are also used towards boosting important projects on social media platforms via boosts to have real-world impact.
Contribute to support our important projects and to keep us up and running. We have a 100% Verified Business PayPal. Thanks for your time and if you or your organization decide to contribute.
PayPal Contributions Button, No PayPal account required: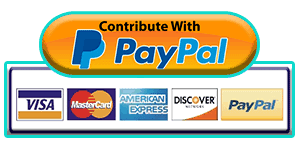 PayPal Contributions and Contact email: [email protected]
We accept contributions with our Paypal.me send money link (PayPal account required)
We also accept various Cryptocurrencies:
Contribute Bitcoin to this address
Contribute Ethereum to this address
Contribute Bitcoin cash to this address
Contribute Litecoin to this address
Contribute Dash to this address
Contribute Eos to this address
Contribute Ethereum classic to this address
Contribute Zcash to this address
Privacy Policy   |  Terms of Service