A man suffered a diving accident on July 18, 2020, which harmed his C4 and C5 vertebrae, causing complete paralysis and loss of feeling from his chest downwards. Keith Thomas, however, is now recovering sensations and mobility in his hands not long after undergoing brain implant surgery involving advanced microchips assisted by artificial intelligence (AI). Additionally, he has observed sustained enhancements in his wrist and arm capabilities beyond the confines of the laboratory, even without the implants being active.
In July, Chad Bouton, an expert in the Institute of Bioelectronic Medicine at the Feinstein Institutes, who created the technology and leads the trial, expressed in a statement that "This is the first time the brain, body and spinal cord have been linked together electronically in a paralyzed human to restore lasting movement and sensation."
"When the study participant thinks about moving his arm or hand, we 'supercharge' his spinal cord and stimulate his brain and muscles to help rebuild connections, provide sensory feedback, and promote recovery," Bouton added.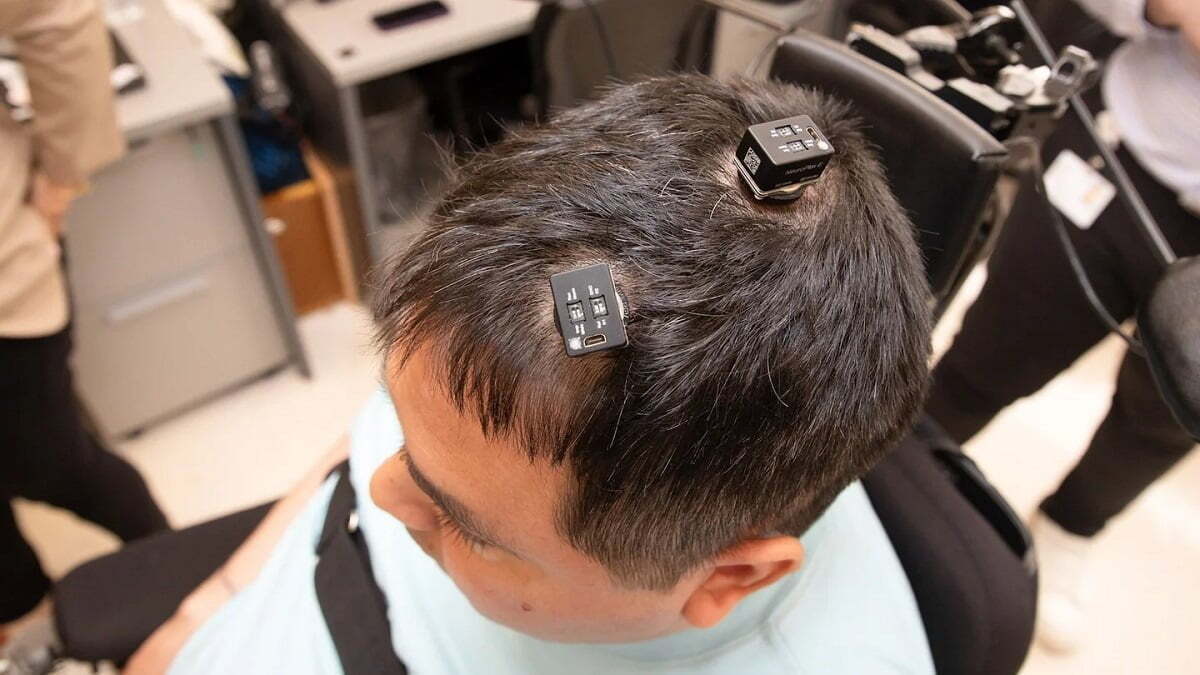 In order to achieve the potentially groundbreaking recovery, the group led by Bouton at Northwell Health in New York devoted several months to charting Thomas' brain using functional MRIs. Eventually, they pinpointed the precise areas responsible for the movement of his arms and the sensation of touch in his hands. Following this, a team of neurosurgeons performed a 15-hour surgery, with parts of it taking place while Thomas was conscious, to accurately implant two chips to restore his movement and three additional chips in the region governing the touch and feeling in his fingers.
The rigorous process also encompassed the attachment of external openings on Thomas' head, which scientists linked to an artificial intelligence software employed to decipher his brain's operations into bodily movements—an approach referred to as thought-propelled therapy. Once the AI obtains his mental inputs, it subsequently converts them into signals received by non-penetrating electrodes positioned over both his back and forearm muscles to induce motion. Furthermore, supplementary detectors positioned on his fingertips and palms additionally transmit information regarding pressure and tactile sensations to the specific part of his brain responsible for sensing.
Following a mere four-month duration of this treatment, Thomas was able to restore sufficient feeling in his fingers and palm to grasp his sister's hand. Additionally, he gained the ability to move his arms with twice the strength he had before participating in the experiment. The researchers have also observed remarkable spontaneous recovery, which they believe could potentially alleviate some of the long-term consequences of his spinal injury, regardless of whether the microchip system is utilized or not.
The team at Northwell Health affirms that the implications of the new technology are highly encouraging, as it demonstrates the potential to reshape the brain's neural connections without relying on drugs. Thomas asserts that his personal advancements have already brought about a transformative impact on his life.
"There was a time that I didn't know if I was even going to live, or if I wanted to, frankly. And now, I can feel the touch of someone holding my hand. It's overwhelming," Thomas noted on July 28, "if this can help someone even more than it's helped me somewhere down the line, it's all worth it."
Images Credit: Northwell Health.